Midcentury Modern Beach Living Room Interior Design Inspiration
Jan 31, 2017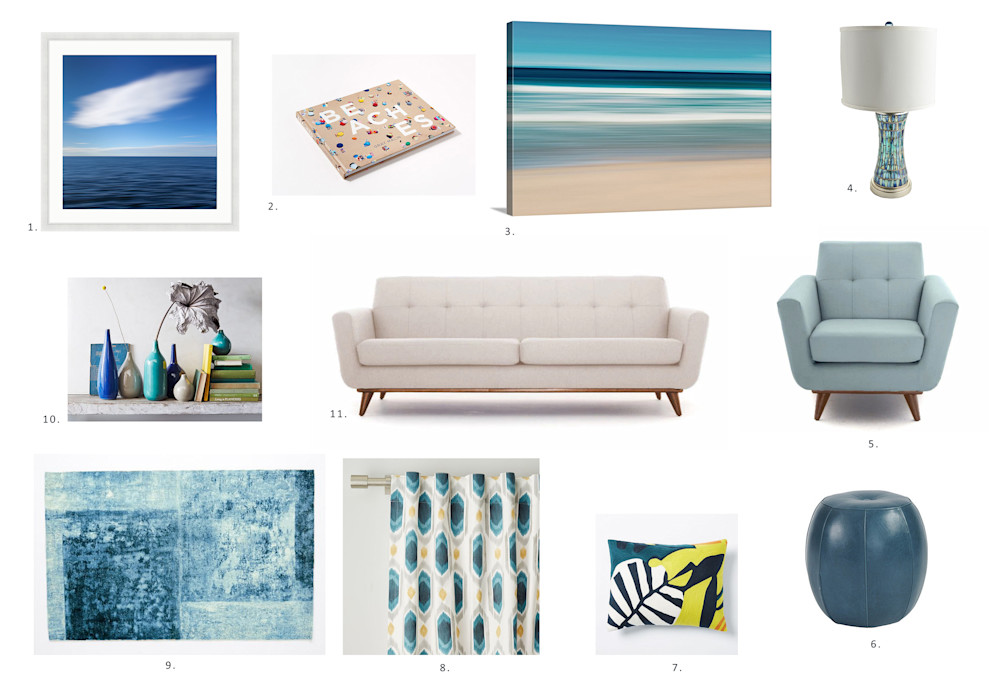 1. "Cloud Dance" abstract ocean photograph by Katherine Gendreau; 2. "Beaches" Coffee Table Book by Gray Malin; 3. "South Beach Afternoon" abstract beach photograph by Katherine Gendreau, on canvas; 4. Helena Blue Mosaic Table Lamp, from Pier 1 Imports; 5. Hughes Apartment Chair in Dawson Slate, from Joybird; 6. Leather Pouf in Teal, from Ballard Designs; 7. Crewel Abstract Leaf Pillow from West Elm; 8. Cotton Canvas Ikat Gem Curtain from West Elm; 9. Distressed Rococo Wool Rug from West Elm; 10. Bright Ceramicist Vases from West Elm; 11. Hughes Sofa in Lucky Divine from Joybird.
My husband and I spent a lot of time moving around the country for the past few years while he was completing his medical school rotations. As a result, we didn't buy a lot of furniture because the more stuff you have, the more it sucks when you have to move. So recently, when we finally decided to stay in Rhode Island, I got the chance to decorate our new place from scratch.
Naturally, my starting point for decorating the walls was my own beach photography, since I can print my own stuff on demand and change it out whenever I want (or take a piece off my wall to sell in a gallery show). Starting with the art was a great way to determine a color scheme and build from there. I knew I wanted our home to have a beachy feel, but without being too obvious about it. I wanted the base colors to be teal, navy blue, beige and white, with lime green and yellow as accent colors. I also have a thing for midcentury modern design, so I wanted to incorporate some midcentury elements without it looking too much like the Jetsons.
I've put together the idea board above with some of the pieces that I used in my living room. The two abstract seascape photographs that inspired the design are "Cloud Dance" and "South Beach Afternoon," which I shot in Monhegan, Maine, and Martha's Vineyard, respectively. I framed a 24x24 print of Cloud Dance with a white frame and white mat, and I had my canvas lab print South Beach Afternoon on canvas at 40x60 inches to hang over the couch.
West Elm was my go-to place to shop for their stylish, colorful rugs, pillows, and curtains. I'm not completely done decorating our living room just yet, but I am loving the bright, colorful, cheerful vibe! Puts me in a happy place every day :)
By the way, if you're interested in the couch and chair, they're both from Joybird, which is an online company that makes custom midcentury modern style furniture. I was on the fence about ordering furniture online, but they sent me a box of a million fabric swatches that I played with for months, and when I eventually decided on a fabric, I ended up ordering the Hughes Apartment Chair from them. It took about 2 months before it came in, and I will say, it was totally worth the wait! I LOVE my chair and in fact, I'm sitting in it right now. In the future, I'll probably replace our white couch (which we got from a local chain furniture store, and the quality of which, in my opinion, is inferior to that of the Joybird chair) with the above Joybird Hughes couch. Just my experience, but I would totally recommend Joybird for anyone looking for some colorful midcentury furniture!