Using the Wall Preview Tool in my Shop to Visualize Art on Your Wall
Feb 06, 2017
The hardest part of buying art is choosing the right size. So I'm really excited about a new feature in my website shop called the Wall Preview tool. This tool allows you to visualize what my art looks like on a wall, and helps you get an idea of what size would work best for your space. There are a number of room scenes to choose from, including bedroom, living room, nursery, office, etc. There are also a wide range of wall colors to choose from, which are all actual Benjamin Moore bestselling paint colors, so you can find one that closely matches your wall, and see how the art looks with it.
So, how do you use the Wall Preview? Here's how!
1. Select any photo from a category in my shop page. For this example, I'm using "Race Point Sunset II," an abstract Cape Cod seascape.

The product page for that photo will come up. To the right of the photo, you'll see a blue button marked "Wall Preview". Click on that.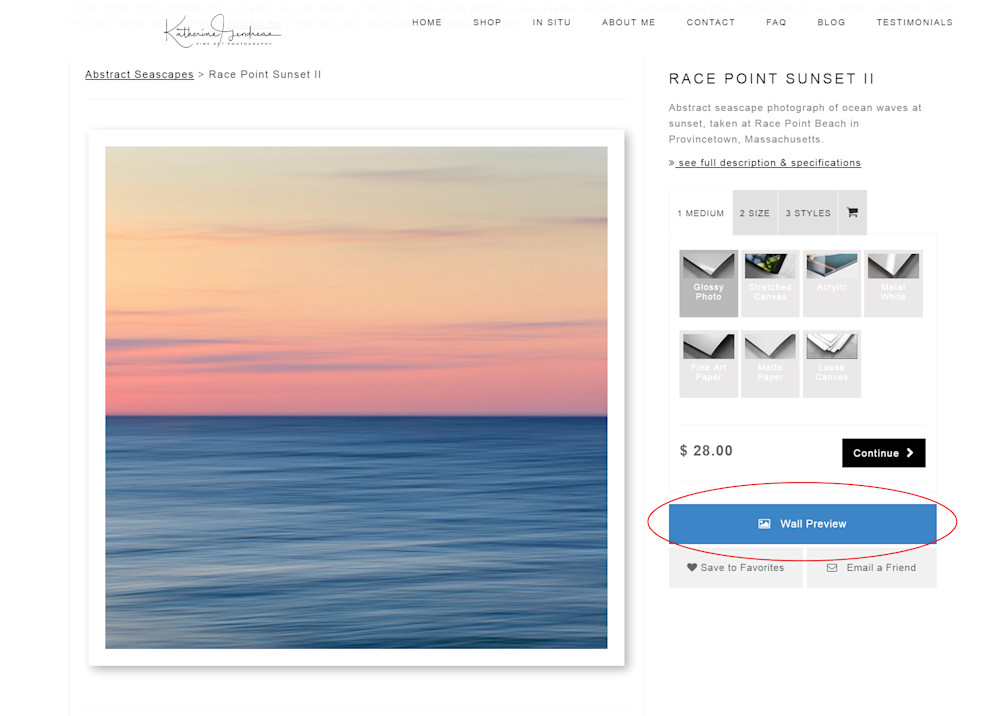 2. The Wall Preview tool will open. The first thing you'll see is a living room scene with a white wall, and the art will look tiny above the couch. Change the artwork size from the menu marked "Size" at the top of the page. There are also menus for changing the wall color or the room scene.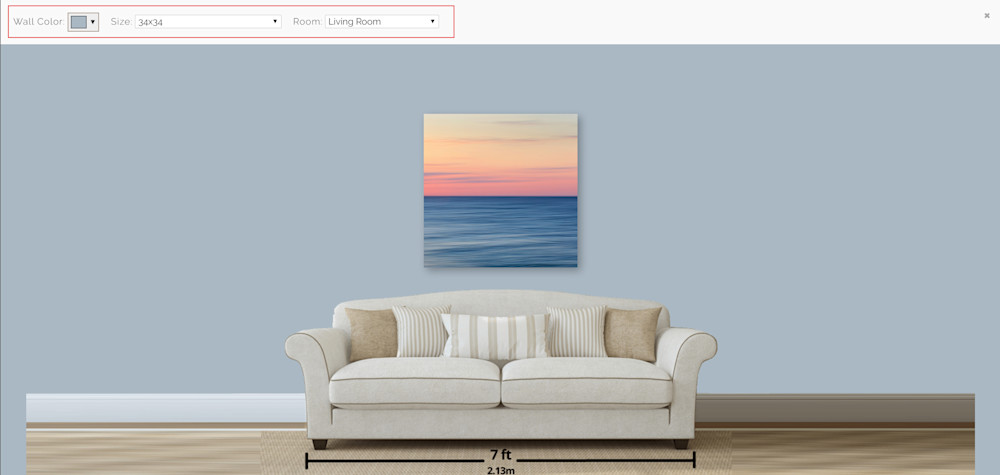 3. If none of the color options match your wall, you can select a custom color from the gradiant to the right of the color squares. Just drag the black dot around inside the gradiant to choose the color you'd like. If you know the hex code of your wall color, you can also enter the code here.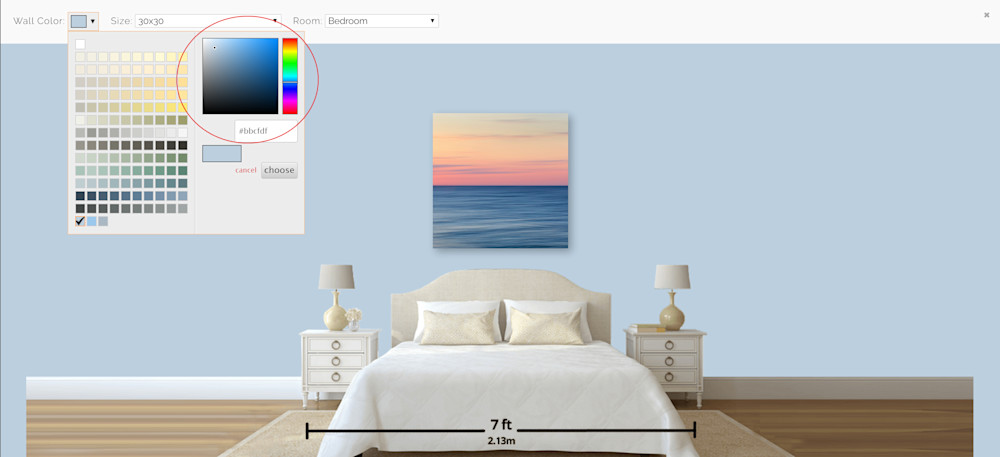 4. If you want to see how a framed print looks on a wall, you can do that too! Click the X on the top right corner of the wall preview tool to close it and go back to the product page. To the right of the photo, you'll see there are three tabs marked Medium, Size, and Styles. Select the Styles tab, then select "Framed." A fourth tab will appear marked Frame. Click on the Frame tab, and then select from the frame/matte combination you like. Then, select the Wall Preview button.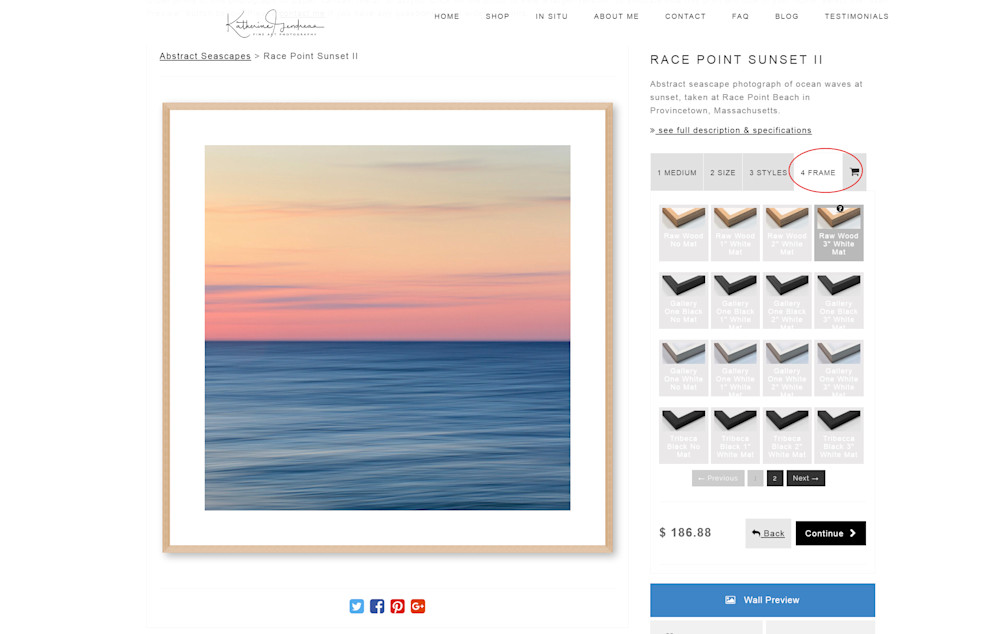 5. Voila! Now you can see what a framed print looks like on a wall, and change the size, wall color, and room as you see fit.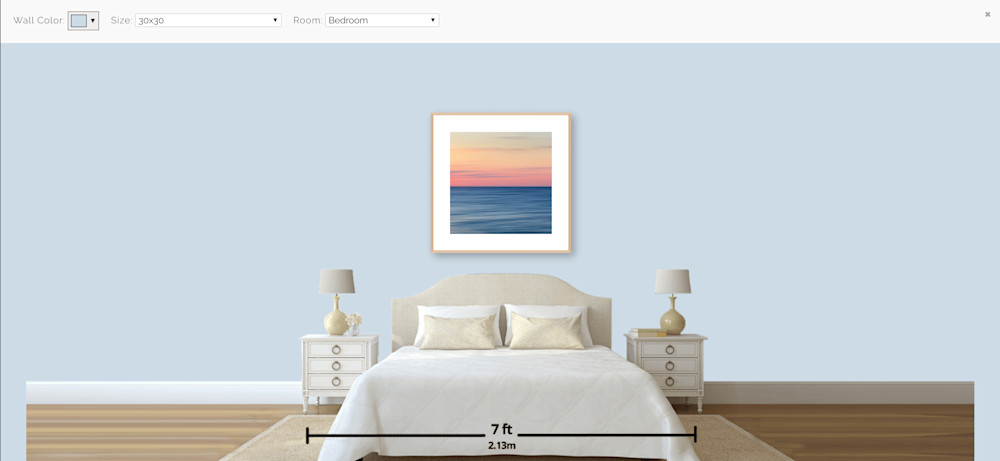 So in summary, this is an awesome tool to help you figure out what size print would work best for your room. If you're totally redecorating, this might even help you pick a paint color to complement your new art!