In my shop, I offer the option to order my fine art coastal photographs on paper, canvas, and metal, as well as custom framed prints. There are different benefits to each print medium.

Unframed Prints
I offer the option to order unframed prints on Epson Luster photo paper or Somerset Velvet fine art paper. Both of these options can be ordered as unmatted, unframed prints, or as custom framed prints. These options are available during the ordering process in my shop.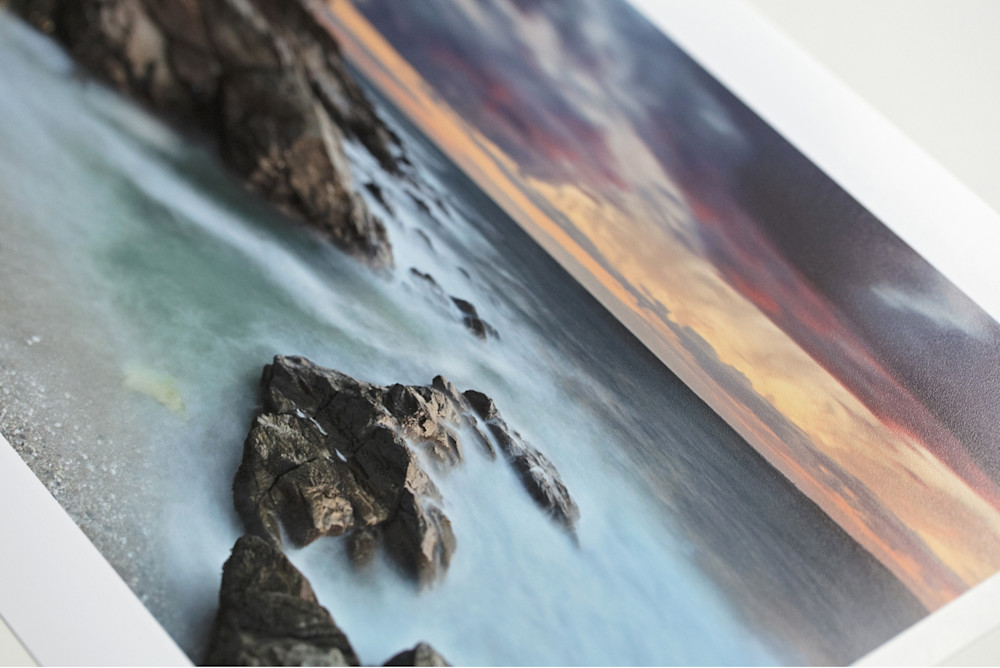 Luster photo prints are printed on Epson Ultra Premium Luster Photo paper. This paper has a semi-gloss finish, and is a cross between a matte and a gloss paper. Luster paper produces vivid, lifelike images that rival those of traditional silver halide prints. Premium Luster Photo Paper delivers highly saturated prints by offering maximum ink coverage and a high D-Max for true photographic reproductions.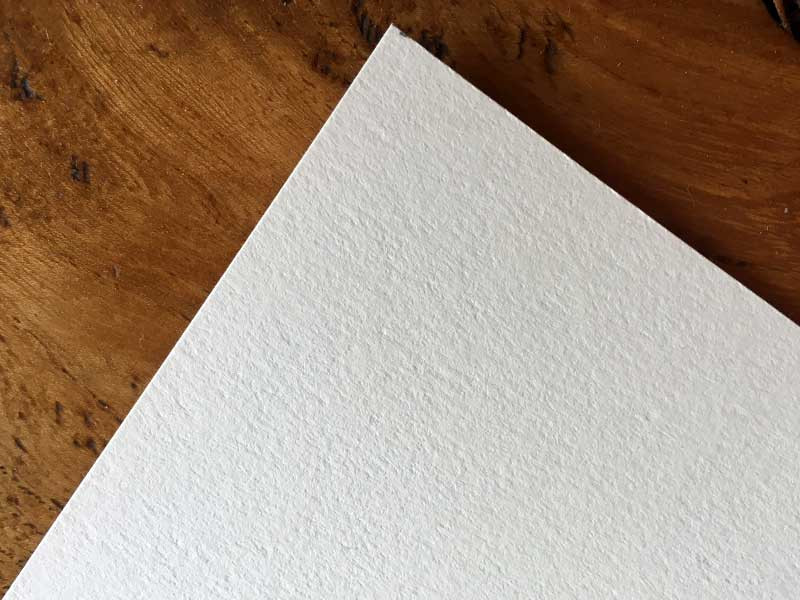 Fine art prints are printed on Somerset Velvet paper. This is a 100% cotton paper that provides an elegantly textured finish, enabling rich, deep blacks and an incredibly wide color gamut. It has a completely matte finish. The textured surface of this paper adds a true fine art quality to prints, similar to a watercolor paper, but with a lighter texture. If you are looking for the highest level of print quality, this is the paper for you.
Canvas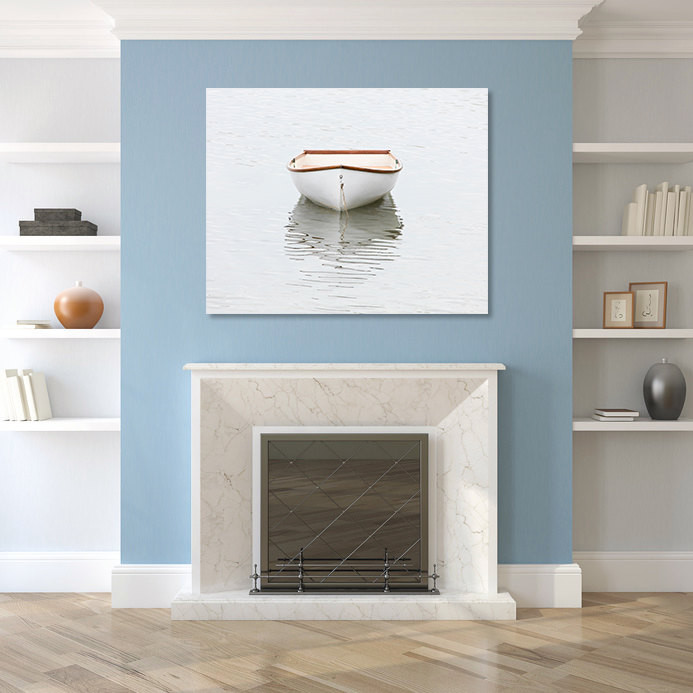 Canvas prints are printed on Epson Exhibition Matte canvas. This elegantly textured canvas features a soft-matte surface with a bright white point and a wide color gamut. Canvases are coated with a non-yellowing, UV resistant, liquid topcoat for added protection, durability, and print life.
Canvases can be ordered as gallery wraps, with the canvas stretched over a wooden frame and finished with hanging hardware installed, so that it arrives ready-to-hang. They can also be ordered as unstretched, rolled in a tube. The advantage of ordering an unstretched canvas is that the cost of shipping will be much lower (particularly at larger sizes) than stretched canvases, and there's also less chances of the canvas getting damaged during shipping. For international orders, it is preferable to order a canvas unstretched to avoid high international shipping charges. You would need to bring an unstretched canvas to a framer to have it stretched for you, whereas a stretched canvas will arrive ready-to-hang.
There are several benefits of canvas vs. a traditional framed print or other print media. The biggest benefit is that canvases do not need to be framed, so they're usually the least expensive option of displaying a print, particularly at larger sizes. They're also very lightweight, which makes them easy to move around. Canvas prints are very versatile, working well with both traditional and modern decor. Finally, canvases have a matte finish, which makes them great for hanging in areas where direct lighting might cause glare on a more reflective print surface.
Metal Prints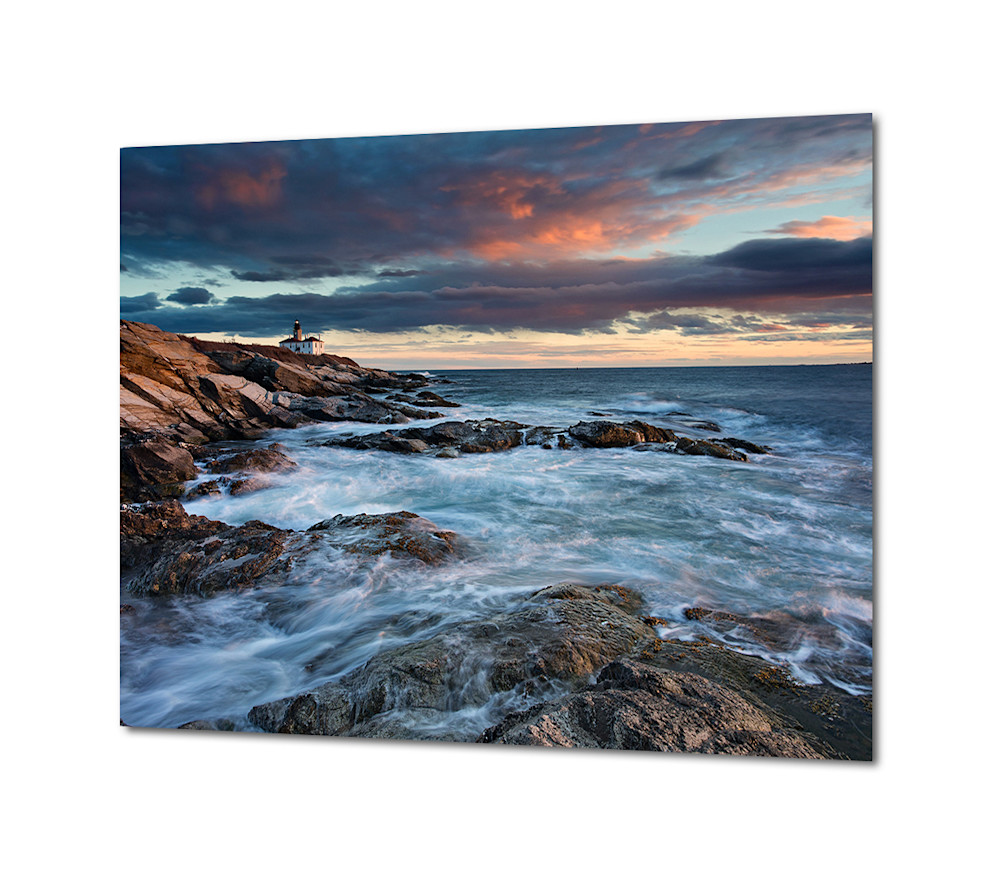 Metal prints are printed using a dye sublimation process, where the image is actually infused into a surface of thin, rigid aluminum. This process ensures that the image cannot be scratched off the surface of the print. Metal prints are printed on Chromaluxe metal panels with a white base, and are finished with a metal inset framed installed on the back, so that your metal print arrived ready-to-hang. You also have the option to add 1/4" Sintra backing to your print, adding thickness and durability to your print, as well as adding rigidity for larger size prints. Metal prints ordered with Sintra backing come with the image title, size, substrate, and my signature sublimated into the back of the piece. Metal prints are very sleek, vibrant and modern, and work especially well for highly-saturated, colorful photography. My fine art seascape photos work particularly well on this medium. Given the sleekness of metal, it works best with modern decor, and prints should be hung in places where direct lighting won't create glare, or where gallery lights can be installed to enhance the artwork.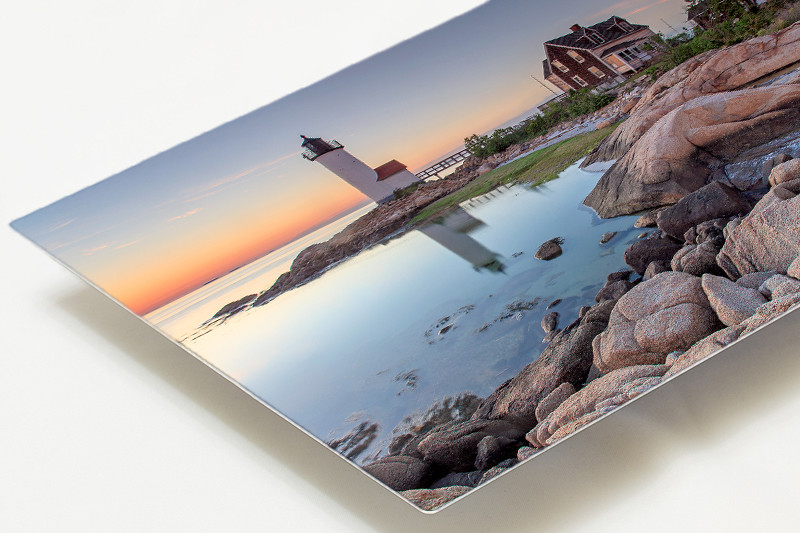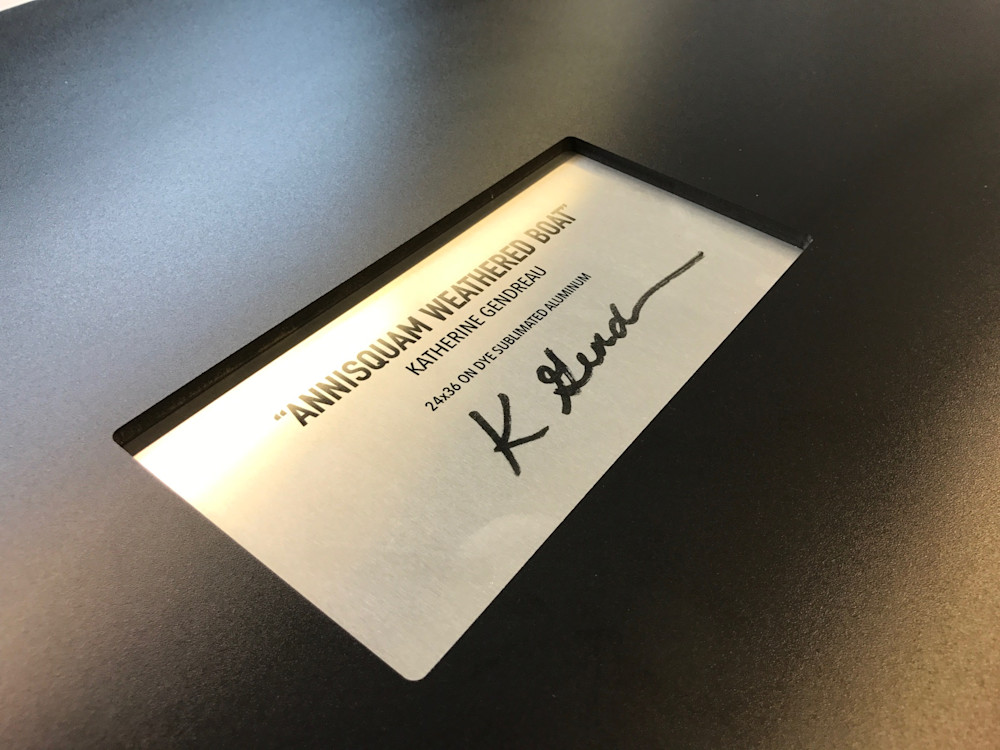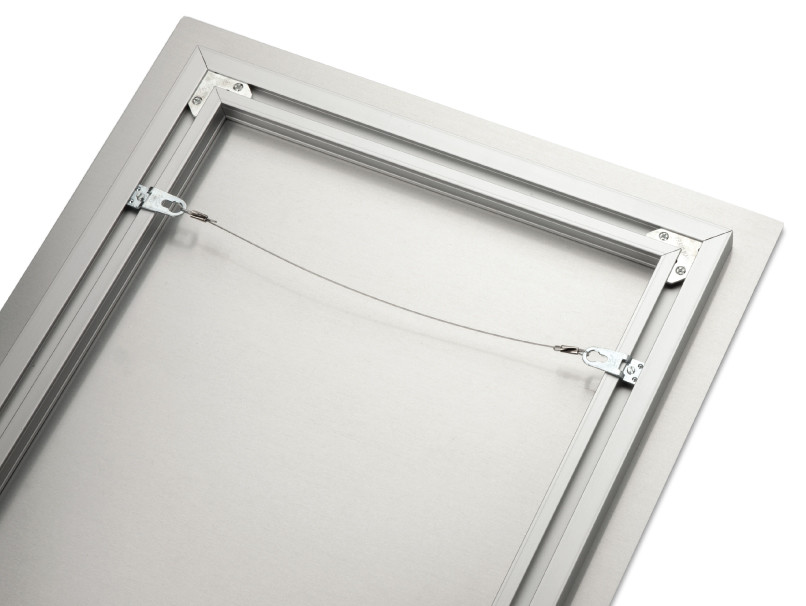 Acrylic Prints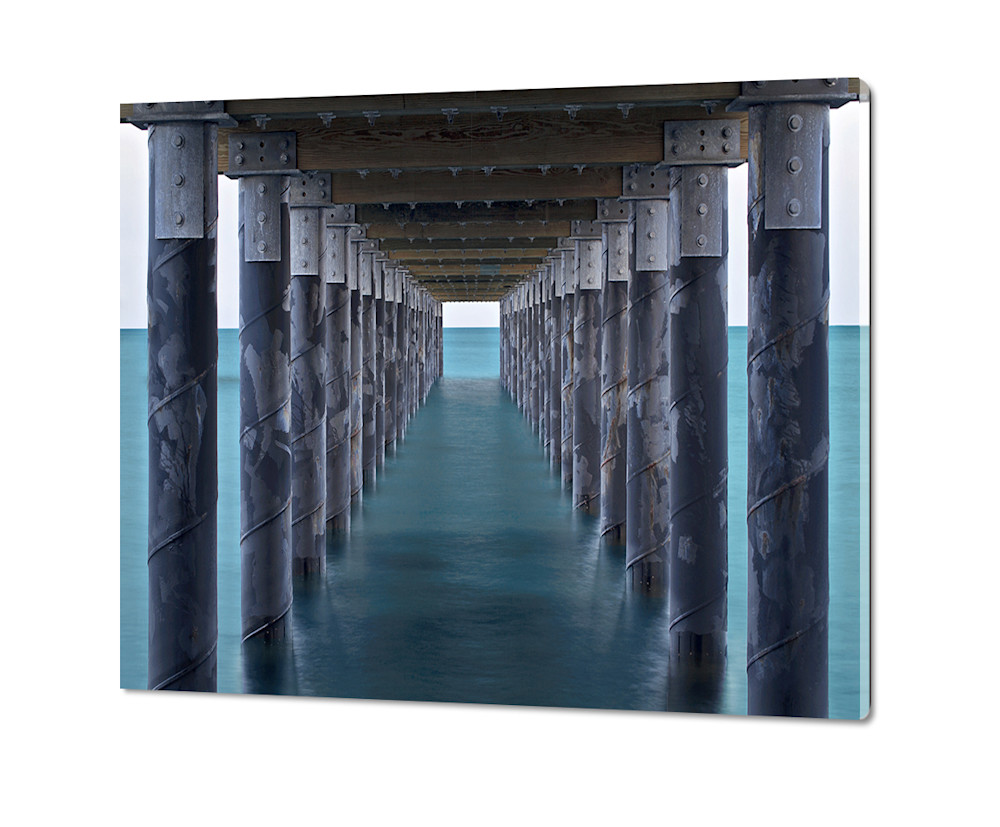 Acrylic prints are similar in style to metal prints, but with a few differences. The image is printed using an inkjet process on glossy photo paper, then face-mounted to a 1/4" piece of acrylic glass with 3mm PVC backing. Acrylic prints are finished with a wood block and hanging hardware installed on the back, so that they arrive ready-to-hang. Given the thickness of the acrylic glass, these prints are thicker than metal prints, thus they are heavier. The acrylic glass protects the print from damage, whereas metal prints are more susceptible to damage. Acrylic prints are also less reflective than metal prints, and can work well with more traditional decor, as well as modern decor.
Framed Prints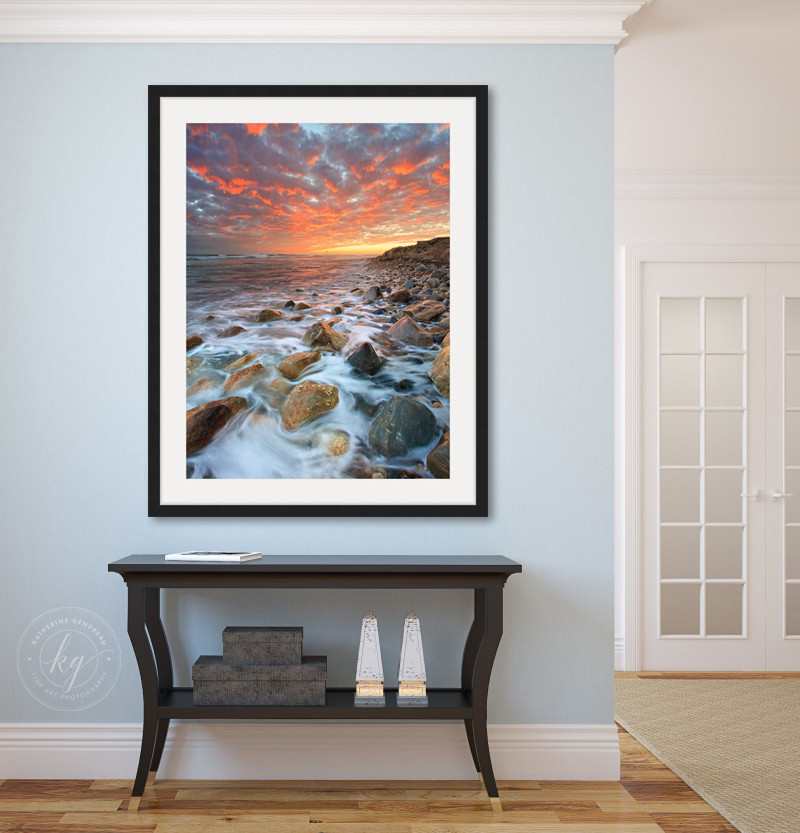 Framed prints can be ordered by following the ordering process in my shop. First, select the paper type you would like (glossy, matte, or fine art paper). Then, select the size you would like. You will then be given the option of ordering the print unmatted, matted, or framed. Select "framed," and you will then be given several options for frame style and matting, including a clean white, natural wood, or clean black frame. I use a professional framer to matte and frame my prints, using archival matboard, UV-resistant, anti-glare glass, and solid wood frames. Framed prints come with hanging hardware installed, so they arrive ready-to-hang.
Framed prints are the most traditional choice for displaying prints, and you really can't go wrong with a framed print. They are versatile and work well with both traditional and modern decor. Professional framing ensures that your print will be protected under glass for many years, and the print will not fade or discolor over time. Framed prints do tend to be the most expensive option for displaying art.
If you are looking for a different frame color than those offered through my shop, I reccommend purchasing the print unframed, and having it framed locally. That way, you will be able to choose from a larger selection of frame and mat options.